At Integrated Holistic Solutions, PLLC, we offer several modalities of groups. Participating in a group can offer alternate perspectives a person may not otherwise see. While our groups vary in type and format, a common thread is that members have the opportunity to work on improving their lives in a supportive, structured, and safe environment. The groups we offer are facilitated in different formats including HIPAA compliant video sessions and in-person sessions at our Huntersville office.
Our therapy groups are available to individuals who are wanting more than a general support group and desire change in their life. Each group is facilitated by one of our trained professionals who ensures a safe and productive group environment. The group facilitator offers direction and guidance through empirically supported treatment interventions.
The goal of group therapy is to gain self-awareness and insight by engaging in a safe and open group environment. Some people attend individual therapy in addition to groups, while others participate in groups only. Joining a group of strangers may sound intimidating at first, but group therapy provides benefits that individual therapy may not. Sharing stories with others can be therapeutic in itself. Participating in group therapy can be a relief to the group members because they hear each other's stories and recognize they are not alone. For anyone interested in group therapy, we have a screening process in place to ensure each member benefits from the group experience. During the screening process, one of our providers will discuss your options and make recommendations. Please call us today to find out if this is the right option for you.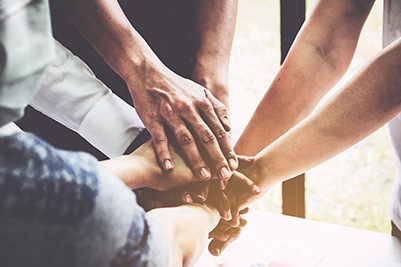 Everyone has a unique set of challenges and life experiences that can sometimes make it difficult to connect with others. Some people may feel like no one understands what they are going through. The main goal of a support group is to foster a sense of community and to build trusting relationships with others. This occurs by members sharing their experiences with each other. Participating in a group provides the members with an opportunity to be with people who share a common purpose and are more likely to understand one another. Support groups offer a lot of practical tips and resources for dealing with the identified concerns of the group. Members share their success stories and the strategies that helped them move forward in their own journey. Group members are encouraged to offer each other support through verbal affirmations. Our support groups are led by one of our trained professionals and are open to new members throughout the course of treatment. Call one of our care coordinators today for information on meeting dates and times and to find out if this is the right option for you.
 A quick search on the internet reveals there are dozens of diet plans, exercise regimens, and lifestyle guidelines available to us. Though the information can be helpful, it can also be difficult to navigate between healthy and unhealthy options. Healthy living groups are not strictly counseling-based. Our healthy living groups are facilitated by trained professionals who provide evidenced-based resources on the truths and myths of what healthy options are for your unique needs. These groups are designed to address specific areas of health and wellness such as Gluten-Free Living, Yoga for Depression, The Benefits of Fasting, Organic Gardening, and more. Educating members on how to incorporate healthy practices into their daily lives is central to healthy living groups.  If you are looking for support, accountability, and motivation to improve your habits and live a healthier life then this is a group for you! Please call us today to find out if this is the right option for you.
Take Control
Take control of your health and your life! We're available today for your convenience. Take the time to schedule your appointment now!
Virtual Appointments Only
Send us a message or call
Send All Correspondence To
P.O. Box 1546
Huntersville, NC 28070
Contact us
(704) 896-6044 (Office)
(704) 875-9438 (Fax)
info@integratedholisticsolutions.com
Hours of Operation
Monday: 10:30am - 7:30pm
Tuesday: 10:30am - 7:30pm
Wednesday: 9:30am - 6:30pm
Thursday: 10:30am - 7:30pm
Friday: 10:30am-7:30pm