Description
This product contains ingredients derived from milk.
Cautions
Due to elevated TH2 during a pregnancy state, from a conservative standpoint, it may be best to avoid use of transfer factors in pregnant women.
Some individuals may experience flu-like symptoms when they first take the product. Most physicians recognize this as a normal reaction of any product developed to support the immune system. If these symptoms occur, they generally subside within two weeks. Sensitive individuals should start with one capsule every other day for the first week; one capsule per day for the second week; two capsules per day for the third week and thereafter. If individual misses a dose, he/she should not double the dose.
Suggested Use
As a dietary supplement, take on an empty stomach (two hours after eating or one hour before eating) or as directed by your health care professional.
Week 1: one gelcap per day
Week 2 & beyond: two gelcaps per day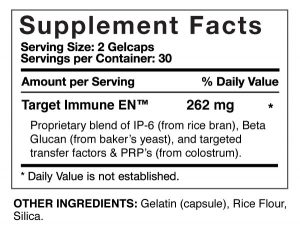 * These statements have not been evaluated by the Food and Drug Administration. These products are meant for general use only and are not intended to diagnose, cure, treat, or prevent any disease. Any decision to use supplements to support your specific needs should be considered in partnership with your licensed healthcare practitioner.